So, I have been reading about Lush for ages, but there is no store in my state, and I couldn't commit to ordering things online. I either would just want to order anything, or in reality was too scared to take the plunge to some of the bizarre looking products!
But last weekend on the way home from NYC, we took a detour and ended up in Boston. I saw people walking around with LUSH bags and sniffed out the store!
It was an incredible experience! My sister, who is 15 was with me, and I thought she'd be bored out of her skull, but she ended up being so excited and jumping up and down saying "OMG can we get this too??? PLEEEASE!" She didn't have to plead too much though, I am in love.
We walked around in a daze for a little while, sniffing stuff, and just taking it all in, but eventually I initiated and asked the lovely sales lady to show me products that would give me a good first impression and get me hooked.
She was definitely good at her job and whisked me over to the sink and used the best sellers which were: Ocean Salt scrub, Dream Cream,and lemony flutter cream. She let us walk around and take our time, but she told us about anything else we had questions about. My sister had a great time with the shower jellies, and I DEFINITELY will be getting a shimmer body moisturizer for the holiday season. I used the iridescent one on my arm and spent the rest of the day looking at it and saying "I'm a fairy!!" I thought my sister would slap me. But hey, it made me feel like a kid again.
Bottom line: I seriously could have bought half the store. I didn't even LOOK at hair products until we were on our way out.
At the end of the venture we left with:
· Dream Cream (which I have since fell in love with, and living in Maine, with 6 months of winter, i will never be without)- I have been using this every day when I get out of the shower, and have really noticed a difference in my skin. I'm tempted to get rid of all my other body lotions and just use this. It soaks right in, providing REAL moisture, and the smell is very pleasant and mild. Plus- a little bit goes a long way!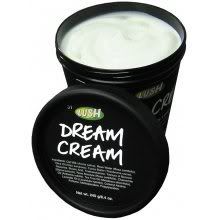 · Figs & Leaves soap- I have never been a fan of bar soap but with their vast variety I was willing to at least give it a try! This has a very pleasant, unique smell, and tiny exfoliating bits in it. When I use it in the shower, it does make my skin have that weird tight feeling that other soaps do when I rinse off. BUT when I get out and dry off, I notice the difference in my skin, it really is soft, moisturized, and clean. I will definitely be trying more LUSH soaps!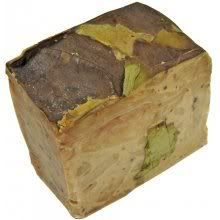 · Cupcake mask (for the sister- who has troublesome teen skin)- Haven't used this one, since it isn't for my skin type, I'll have to check in with the sis for a full review, but it smells DELICIOUS! A little like floral brownie batter! Strange but incredible.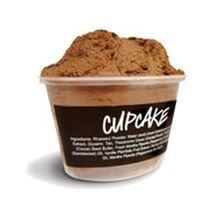 · The seaweed mask for dry skin. I've used this several times since I've had it, and it is fabulous. First of all, just using it fresh from the fridge is very refreshing and reviving to my skin. The seaweed pieces make it exfoliating without being harsh, and my skin feels so soft and clean after! It smells like a product straight from an exclusive spa too! I will continue to use this through the winter to battle the dryness of my skin.

· Soft touch solid moisturizer (we tried this and couldn't stop sniffing our arms the whole way home). I rub this on my hands and feet before going to bed at night and when I wake up in the morning they are silky smooth. I actually have found myself slipping on my hardwood floor because my skin is so soft! Once again, like all LUSH products, the smell is unique but addicting! Love this for winter!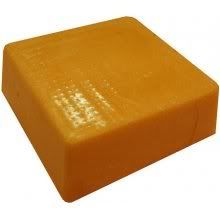 All in all so much fun. I've been using the stuff religiously and really seen a difference in my skin. I am already working on my wishlist for Christmas!
Let me know what your favorite products are so I make sure I don't miss out on anything fabulous!
xoxo


----------------
Now playing: Mariah Carey - Heartbreaker